Celebrity HuffingtonPost.com
Celebrity HuffingtonPost.com
PHOTO: Emma Watson Seems Caught Off-Guard On The Cover Of Nylon
Sep 23rd 2012, 17:38
This is not Emma Watson's month. After suffering a wardrobe malfunction from her too-low cut dress a couple of weeks ago, the 22-year-old's latest cover for Nylon has been released and it's... well, let's just say it's not her best.
The "Perks Of Being A Wallflower" actress poses with her co-stars Ezra Miller and Logan Lerman for the October issue of the magazine. The boys manage to come out looking good, but Emma seems to have been caught in an unflattering moment with her eyes half closed. And since she is placed front and center, her awkward expression just makes the whole cover look a little off.
Now we don't want to sound like we're hating on Emma. We absolutely adore her, but we know that she can look better than this (exhibit A). So why did Nylon have to choose this particular shot? The face of Lancome has a pretty good track record of taking fantastic photos, so it seems like a strange choice to us. The androgynous styling is cute enough (Emma even chose to wear safety pins in lieu of earrings inside the mag), but we just wish the photographer would have snapped her with a less off-guard expression.
We're keeping our fingers crossed that you'll make it through September without another unfortunate style moment, Emma! In the meantime, check out her Nylon cover and tell us what you think.
PHOTO: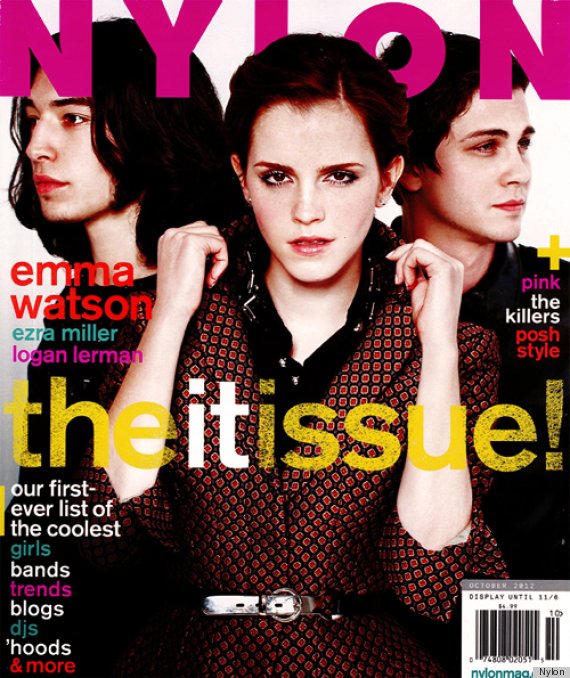 See Emma Watson's style evolution!
Want more? Be sure to check out HuffPost Style on Twitter, Facebook, Tumblr and Pinterest.